Children belong in the kitchen. At a certain age, they'll be able to cook a meal all by themselves. Inspire yourself and try this recipe for pasta with roasted chicken liver. Chicken liver has a high nutritional value and should be included on your menu.

The Kid Chef, 11-year-old Victor, has already shown us an interesting dessert recipe. This time, he will show us how to prepare the main course – pasta with roasted liver and bacon. Liver has a high nutritional value and contains many useful nutrients, such as iron and vitamins A, B and K. It also contains selenium, zinc, copper, phosphorus, and biotin. Chicken liver is also rich in vitamin K2 which is important for the correct development of teeth and bones of toddlers. It's good for mothers who are breastfeeding, too.
Liver and pregnancy
The iron contained in liver helps with anemia, which is why it's recommended to people recovering from accidents or surgeries. Zinc is good for the immune system. However, pregnant women should avoid eating too much liver because the excess of vitamin A could cause abnormal fetal development. Carrots also contain a lot of vitamin A, but they're safe to eat because the concentration isn't nearly as high as it is in liver.
Liver and children
Small children shouldn't consume liver more often than once every two weeks because it's the organ that may collect the waste materials from the animal's body. Try to pick liver from young animals, preferably chicken. Your children will process them easier than beef or pork liver.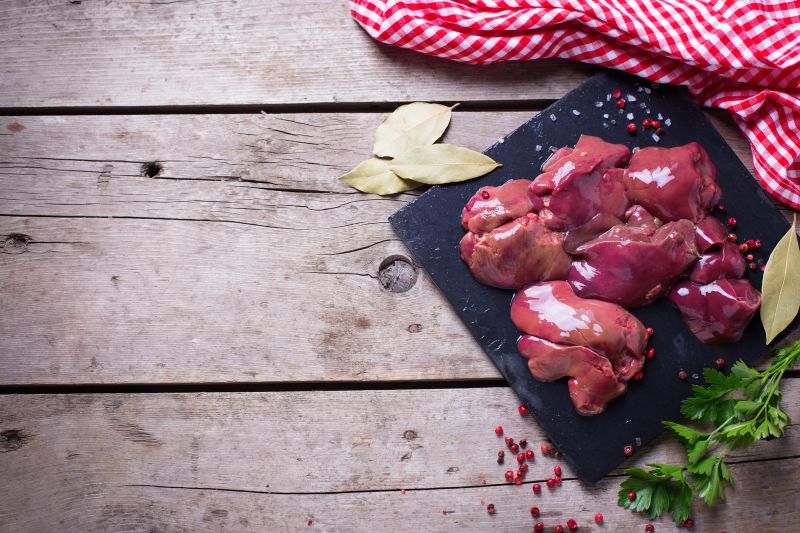 Pasta with roasted liver and bacon
Ingredients
chicken liver
fresh chili peppers
spaghetti
black olives
smoked bacon
olive oil
salt
Instructions
Add salt into water and allow the water to boil. While you're waiting, dice the liver and bacon. Remember to remove the skin from the bacon. When the water begins to boil, add the pasta and cook it al dente. Chop the chili peppers and then crush them into a paste. Get a large frying pan and add some olive oil. When the oil is hot, fry the bacon and then add the liver. Add sliced olives and the chili paste and roast the liver until it's soft. Once the liver is cooked, season with some salt. Serve the pasta with some parmesan cheese and basil for decoration.
Bon appetit!