It's finally here. The day you leave for your long-awaited vacation. You enter the airport with a smile on your face but everyone around is just staring at you with despair. A mother! With a child! In a plane! You've suddenly become the nightmare of your fellow passengers. Nobody seems to want to sit near you and you can already feel it's going to be a long trip. Traveling with children doesn't have to be a catastrophe, though. All you have to do is prepare for it.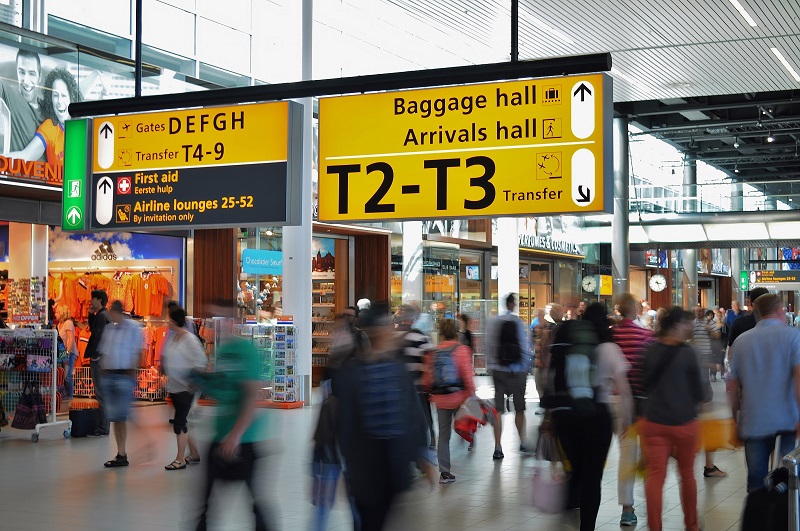 Before you leave for the airport
Preparation is the key to traveling with children. Allow yourself enough time to prepare and the travel will be easy.
Don't underestimate packing
If you're traveling with preschoolers, pack a bag for each one. Make sure you've packed some toys and the things they'll need for the travel. Avoid getting them those small children's suitcases on wheels. They may look adorable but what will happen when your child gets tired of pulling it? Bingo! You'll be the one stuck with it. Instead, pack each of your children a small backpack they can carry. Your child will feel like a true adult.
More is more
Many guides for parents advise to call the airport in advance and ask about delayed flights. The truth is that, even if you try, you often learn about a delay only after you've already arrived at the airport. To be safe, prepare for the possible wait and pack enough diapers and baby food. A change of clothes is also mandatory.
Even older children can get sick while traveling in a plane. Dirty or soiled clothes are uncomfortable for both your child and the other passengers. Most airlines provide sick bags on board but you shouldn't depend on that. Bring a few plastic bags that can be sealed, just in case. They're also a perfect place to store wet or dirty clothes, used diapers and used wet towels. If you want to eliminate the chance of your child getting sick on the plane, get the proper medication to prevent travel sickness. It's widely available without a doctor's note.
Have some fun
Nobody knows your child better than you do. You know what will entertain them. Coloring books, picture books, and stickers are a sure-fire way to keep any child entertained. The key is not giving them all these things at once because they'll lose interest quickly. Give them only one and wait until they grow tired of it, then give them another. This way, they should be entertained during the entire flight. Nowadays, a tablet with cartoons or songs seems to the best bet. Hey, at least your baggage won't be as heavy.
Before take-off
Here it is. You're finally at the airport and you're in a hurry when something unexpected happens. Always try to prevent these unpleasant surprises by arriving a little earlier than you need to. If you do, nothing will catch you off guard.
Let the race begin
Many parents start with the discipline the moment they enter the airport. We've probably all heard moms say things like "Sit quietly!" or "Stop running around!" while waiting at the airport. Of course, traveling with a child is stressful for any mother and they all want it to go smoothly. However, making your child sit quietly the entire time is a big mistake. Let them run or crawl around you while you're waiting at the airport. They will have to sit for a long time once they're inside the plane, so it's a good idea to let them burn some energy before that. If you let your children tire themselves out beforehand, they'll be too tired to run around during the flight.
Put a tag on your child
It may sound strange at first but it makes perfect sense! You put tags with your contact information on your bags, even though the chance of losing a bag is very small. An airport is like a huge maze and it can only take a moment of distraction for your child to end up lost somewhere. Give your child a bracelet with their name and your contact information. If your child requires some type of medication, include that information too. You can also put a paper in their pocket that would include detailed information.
When hunger attacks
When traveling with older children, prepare a pack of biscuits and a juice box for each child. Siblings often tend to fight over the last remaining biscuit so having a "lunchbox" with snacks for each of them is a good idea. They won't envy each other and they'll eat in peace. If your children are still small, we recommend avoiding sugary treats. Sugar causes hyperactivity in children, which is something you want to avoid.
In the plane
You're already half-way there. Now to enjoy the ride.
A change of pressure
Taking off and landing is a stress for both the child and the parent. Children are more sensitive than adults when it comes to changes of pressure. If your child is flying for the first time, it's possible that there will be tears. If your child is older, try to prepare them in advance and explain to them what will happen. If your child feels pain due to pressure, it's advised to give them chewing gum or a piece of candy. If you're still breastfeeding your baby, try to breastfeed during take-off and landing. But remember, your baby needs to be strapped in with a seatbelt.
Be tolerant to the other passengers
More and more moms turn to alternative parenting methods. However, not all of the activities you do at home are tolerated in public. A good example is the Elimination Communication Method, where the baby doesn't wear a diaper. Instead, the mom reads the signs her baby is giving her to know when they need to go potty.
If you're an advocate of this method, be tolerant to the other passengers on the plane and get your baby a diaper during the travel.
One more tip
While booking your ticket, remember to tick the box that asks whether you're traveling with a child. Take the seats in the front part of the plane. You'll be more comfortable and you'll have easier access to the bathroom as well as the plane's stewards.